Alumnus James "Rusty" Lovel (MS '12) is getting well-rounded experience in various positions at the Webster Police Department, hoping one day to use all his skills to become a police chief.
A graduate of the weekend Master of Science in Criminal Justice Leadership and Management program at Sam Houston State University, Sgt. Lovel served in patrol, as a crime scene detective, and as a supervisor of patrol and the Criminal Investigation Division. He currently oversees dispatch and records, which handles calls for police services and records requested by the public, courts and attorneys.
"My advice to students is to get as well rounded as you can," said Sgt. Lovel, a 19 year veteran of the force. "Don't stay in any one job too long. Prepare yourself for the future and don't get pigeon-holed into one particular thing."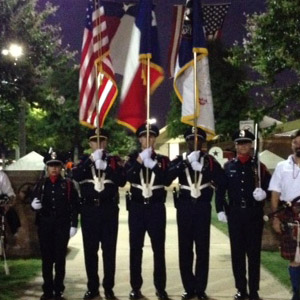 Sgt. Lovel, holding the American flag, leads Webster's honor guard
After earning his bachelor's degree and graduating from a police academy, Sgt. Lovel sent out resumes to many police agencies in Texas and was granted an interview in Webster. Lovel applied for a jailer's position, but after learning about his background in the U.S. Marine Corps, the former Chief, also a Marine, hired him in patrol.
Lovel spent 4-1/2 years in the U.S. Marine Corps, with one year in communications in Okinawa, Japan and later assignments with Embassy Marine Security in Berlin, Germany and Bogota, Columbia, where he learned to speak Spanish. He entered the Marines just one day before the start of Desert Storm.
"I wanted to serve at a different level, so I went to the Police Academy," said Sgt. Lovel. "When I was an embassy guard, I was as close as you can get to being an MP (Military Police). I felt that when I got out, I would continue serving not at the national level, but at the local level."
Like many officers, patrol is where Sgt. Lovel learned to become an officer. Webster, located in the Clear Lake area between Houston and Galveston, has a population of about 10,000, but it grows to 125,000 commuters daily.
"In patrol, especially at night, is where you begin to learn to become a police officer," Sgt. Lovel said. "You learn about how to use discretion, about responding to calls and about your duty in protecting the lives of citizens. Before you can promote, you have to be in patrol to have a better understanding of supervising police work."
After being in patrol just 18 months, Sgt. Lovel was involved in a kidnapping case, where the victim escaped by jumping out of a moving vehicle on the highway. The suspect, William Reece, was convicted of aggravated kidnapping in the case and sentenced to 60 years. Reece also was suspected of the murder of a Friendswood girl.
Sgt. Lovel also served as the crime scene detective, responding to major crimes at all hours of the day or night. As a crime scene investigator, you have to be very detail oriented because a lot of little things at the scene can help solve the crime.
"Physical evidence speaks for itself," said Sgt. Lovel. "No one can fight blood or DNA evidence. But a lot of the evidence coincides with the interviews."
Later, as supervisor in the Criminal Investigation Division, he would assign cases to six detectives, which ran the gamut from crime against persons, financial crimes, sexual assaults, burglaries, robberies, and shootings, to name a few.
"As a detective, you work as much as you can on the case, you work as long as the leads are active," Sgt. Lovel said. "That's where many of the long hours come into play. In the case of a shooting, you know you won't be going home until the next day. You leave no stone unturned and do the best you can to make sure that victims get justice."
While Sgt. Lovel has spent the last few year supervising police officers, he now oversees the civilian side of the department in records and dispatch. He is responsible for 12 dispatchers and the equipment needed to run telephones, radio systems and mobile data terminals in police cars. He also supervises the Records Division, which handles all official records, including open records requests, subpoenas and documents for courts.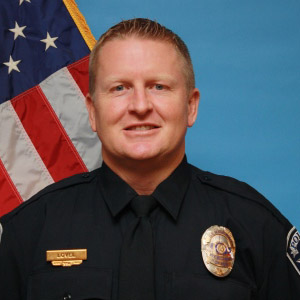 Sgt. James Lovel
"You have to care for your people and have a sincere understanding of their needs," said Sgt. Lovel. "You have to have their buy-in and trust. It is the glue that holds everything together."
In addition to his Master's degree, Lovel also graduated from 238th FBI Academy and from the Leadership Command College (LCC) at the Bill Blackwood Law Enforcement Management Institute of Texas at SHSU. The LCC program taught him to open his eyes to different learning opportunities and the working on behalf of others. He also earned a black belt in Tae Kwon Do and instructs classes for children. He also commands the Webster Honor Guard, a police unit that services at funerals and in parades.
"Sgt. Lovel is a tremendous asset to the Webster Police Department," said Webster Chief Daniel Presley "He serves selflessly, always eager to take on any challenge for the good of the Department. I have no doubt that the masters in Criminal Justice Leadership and Management at SHSU helped develop his exceptional leadership skills."